I'm Buying Card Collections From Across Canada
|
Big Box of 1980's OPC Hockey Cards Sent in the Mail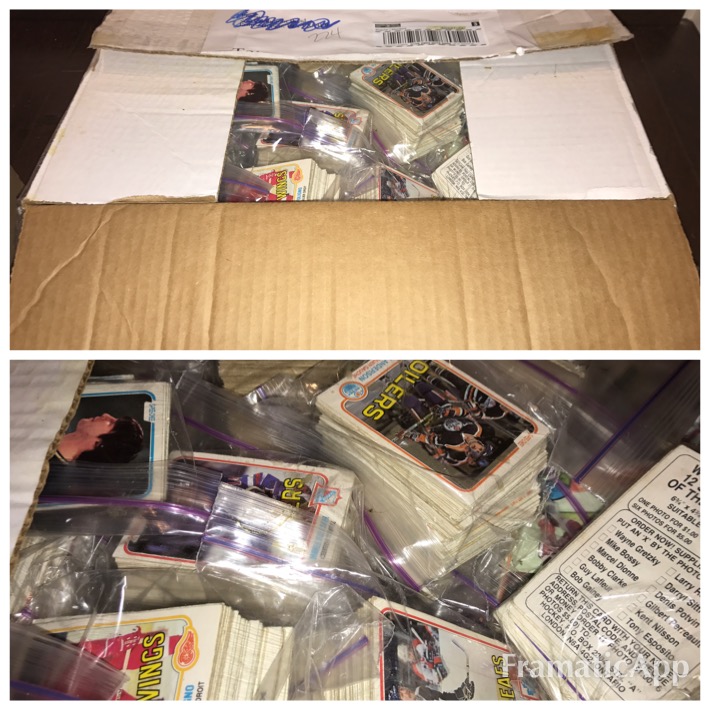 It doesn't matter whether you're in St. John's, or Victoria, or anywhere in between, I'm buying card collections from across from across Canada! As you can see by these two recent deals, people call me from over the country and send me their cards for evaluation and sale. You might feel a little uneasy about sending me your cards, but that's why I have this website, to show you that this is an open and fair process, and I've had many satisfied customers. These two videos and letters of testimony show how well it worked out for two gentleman who recently sent me their cards from out of town. Often times, I get calls and emails from people who live outside of big cities, where there is no outlet for them to sell their cards directly, and at other times, I get approached by people who do not want to spend the time and effort of marketing their cards on eBay or Craigslist. In either case, I'm happy to step in and make the process quick and easy, all you need to do is call me at 604-726-1774 or email me at info@aasportscards.com and we can get the ball rolling. After we discuss your collection, I can give you some ballpark prices, and if you want to proceed after that, simply box up your goods and send them to my office via Canada Post or UPS with proof of signature. With signature tracking, there is no risk to you, as this you are guaranteed to know your items were received at my end. When people send me their items, I evaluate everything I receive promptly, and once we agree on a price, I can send payment immediately via electronic money transfer, or the same day or the next morning by expedited mail with a certified bank draft. Additionally, if you mailed your your collection, and we come to a successful agreement, I will reimburse you for the cost of postage! I've done thousands of deals over the years, many of which were through the mail, and I pride myself of my honesty and integrity, and I simply won't make a deal unless both parties are mutually satisfied.
Check out these two unboxing videos, and accompanying testimonial letters. The first deal shows me unboxing a set of 1954-55 Parkhurst Hockey Cards, and the second shows my going through my bread and butter, a big box of 1980's O-Pee-Chee Hockey Cards. As you can see from the videos, I buy cards in any condition, so if you've got some old cardboard lying around in your basement or attic, call me today and make some cash!
1954-55 Parkhurst Hockey Set Unboxing Live!
I e-mailed Mike to inquire if he wanted to purchase my old hockey card set. Within an hour after pressing send, he called me on the phone. After discussing what I had previously been offered, Mike told me that he felt he could beat that offer but needed to see the set in person to gauge condition, etc. He gave me his word that if he could better the price, he'd send payment the next day by Express Post. If not, he'd ship the set back to me at his expense. I decided to trust Mike and sent him the cards. They arrived to him with no problems and I am happy to say, Mike bought the collection! If all deals went this smoothly a lot of lawyers would be out of work. It's good to know that there are still a few honest people around that you can take at their word.
Live Unboxing of 1980's OPC Hockey Cards
4 Dec 2017
Mike Chark
AA Sports Cards

Dear Mike:

I am pleased to provide the following testimonial of my experience with AA Sports Cards.

Without hesitation I would recommend AA Sports cards to anyone who has sports memorabilia/cards that they want to sell.

In my case I had a collection early 80's hockey cards that had been in the family for 30 plus years – loose, in a box tucked away in a corner. I found AA Sports Cards on the web and called Mike after reviewing his web page. Everything stated on the web site was accurate to a 'T'.

I live outside of the lower mainland so could not hand carry my collection to Mike. I followed his suggestion to mail (signature required) the collection to him for evaluation. I got an email response the same day he received the package advising it had arrived and that he would review the contents and have an offer the next day.

True to his word – answer and offer were received the next day with a detailed evaluation of the package contents.

If anyone out there has sports cards etc. to sell – you should use Mike at AA Sports Cards and if you live outside the lower mainland – don't hesitate to mail your items to Mike – the process was completely seamless – a process that can be trusted completely.

Thanks Mike – a pleasure to deal with you.

Sincerely,
Larry Keene
1954-55 Parkhurst Set